DISTRICT FESTIVAL REICHENAU
from 14:00 | Campagnen-Areal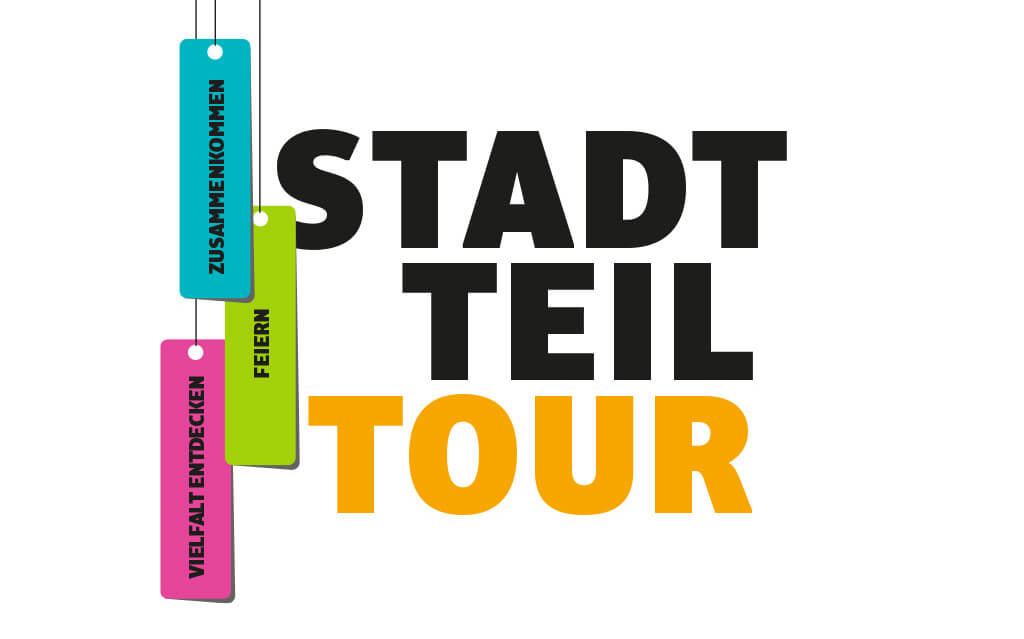 This page was translated automatically. The City of Innsbruck assumes no responsibility for the accuracy of the translation.
The Stadtteiltreffs on the road 2023 - district tour and district festivals
21.6 - 24 JUNE | REICHENAU
Coming together, discovering diversity and celebrating together is the motto again in 2023, when the KOFFER:RAUM of the Stadtteiltreffs tours through the districts of Innsbruck. The KOFFER:RAUM is a trailer filled with tables and chairs and forms the framework for a colorful and eventful program, put together by residents, initiatives and associations. At the district festival on Saturday, there will be a joint celebration - with a games festival, a suitcase market, music and culinary delights from the respective district.
Detailed information about the program and the flyer for download here:
Wednesday 21 June - NEW OPENING GREEN GURDLE EAST
Gutshofweg
from 14 o'clock
PopUp-Café ISD Stadtteiltreff Reichenau
Chat about Reichenau over a cozy coffee in the park
Children's program Caritas Park Care
A colorful and varied program for children for an afternoon full of fun, games and joy!
Heat free - EIS Office for green spaces
Handmade and regional cooling on a beautiful June day
3 - 4 p.m.
Movement program in the park for old and young
Thursday 22 June - FILM EVENING AT THE CITY DISTRICT MEETING
Radetzkystraße 43f
6 - 10 pm
As with the Stadtteil-Tour 2022, this year we will also celebrate the first evening of the Stadtteil-Tour am Areal together with the association FilmABdate. This year we will show the film "Widerklang der Seele" by filmmaker Eric Bayala, who will also be our guest that evening and tell us about his work.

You can also see short films of the association. For the physical well-being is provided.
Friday 23 June - YOUNG AND ACTIVE IN THE REICHENAU
Campagne area
from 15 o'clock
Climbing Tower Friends of Nature
Climb heights and get acquainted with the basics of climbing
Pumptrack ride PZP Pumptrack
Use the pumptrack with bike and scooter under professional supervision
Children's program Caritas Park Care
A colorful and varied program for children for an afternoon full of fun, games and joy!
Chillout-Area Space Youth Center Reichenau
Cozy get-together, relax and enjoy the day together
Children's play bus FiFi - Focus on Families Innsbruck
A variety of games and activities for the little ones and their companions
Dracrafting Corriente Latina
Make bubbles together Draand let them fly at the district festival
Playing Boccia SLW
Get to know the basics of the sport with the Paralympic Boccia team in a playful atmosphere
from 15:30
Garbage fishing IKB
A game station that teaches the basics of waste separation and waste management in a fun way
3 to 5 p.m.
Kicking SVG Reichenau
Show your skills on the ball and taste the joy of the round leather with like-minded people
Saturday 24 June - CITY PARTY FESTIVAL
Celebrate together in the Campagne area
PERFORMANCES
2 p.m.
Puppet show - For children with the colorful puppet carousel in the clubhouse of Corriente Latina
14:45
Collective music for children with Tahirih Lopez-Kochesser
15:15 h
Music from the district with Rudi and his friends
4:00 p.m.
Introduction to tango dance with Karin and Viviana
17:15 h
Lena Schaur - singer/songwriter from Innsbruck
6:30 pm
Swing and Shag with live music with Alpine Jitterbugs Innsbruck
SUPPORTING PROGRAM
from 2 pm
Climbing tower Friends of Nature
Pumptrack ride PZP Pumptrack
Cake buffet Vinzenzgemeinschaft
Children's program Caritas park supervision
Creative station Lebenshilfe
Open table tennis tournament
With the table tennis friends of the Stadtteiltreff - An open and friendly game, no previous experience necessary!
3 - 5 p.m
Blue light to touch
The Reichenau Volunteer Fire Department, the Red Cross and the Reichenau Police Department introduce themselves: Emergency vehicles to explore, discover and gain insight into fascinating activities!
3 - 5 p.m
Suitcase market of the city district tour
We are pleased to have various associations and initiatives from Reichenau as guests again this year, who will present their diverse and colorful work. To walk through, chat and inform yourself about the rich offer of the Reichenau!